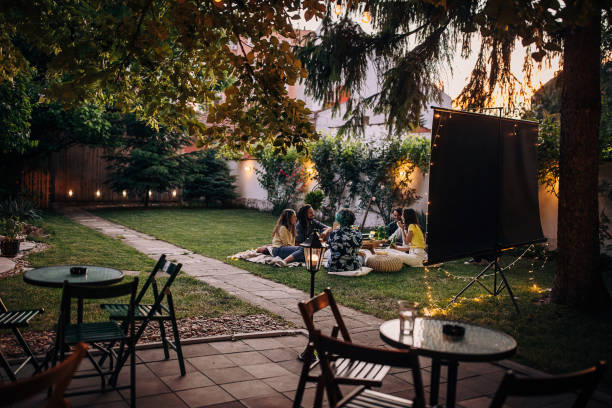 Outdoor living spaces offer a unique opportunity to expand your home and connect you with nature. They provide a tranquil respite from the stresses of everyday life, create a place for kids and pets to play safely, and are an amazing entertaining space.
Creating an outdoor living space requires thoughtful planning, though. Here are some tips and tricks to help you design a comfortable space that suits your needs, whether you want a cozy nook or a large dining area.
Create a Focal Point
A focal point is an important design element in any landscape. It serves several functions, from drawing attention to an object or feature to guiding guests around the space.
Creating a focal point in your yard can be as simple as choosing a piece of art, adding a fountain or placing a fireplace at the heart of the design. However, creating a focal point requires careful planning to ensure it works well with the rest of the landscape.
First, consider the size of your yard and how you plan to use it. A large statue would look oddly out of place in a small cottage garden, for example. It is also important to consider how much the focal point will be seen from a distance.
Focal points can be as simple as a flowering shrub or a fountain, but they can also be as complex as a bridge or a gazebo. Depending on the purpose of the feature, a well-planned landscape may incorporate multiple focal points to bring order and dimension to the yard.
The right lighting can make a focal point pop, particularly when the feature is surrounded by dark foliage. Using picture lights, track lights or wall washer fixtures can give the feature an illuminating presence and add drama to the design.
Color is another effective way to highlight a focal point. A single white blossom or a pair of bright pink lawn chairs automatically stick out as focal points, so play with colors when designing your landscape to make the feature stand out more.
Keep the surrounding landscape in check to prevent any unwelcome distractions, like a neighbor's garage or an ugly power pole. Plants should be properly pruned and shaped, and structures such as statues and trellises will need regular maintenance to stay in good shape.
The most common focal point for many backyards is a patio or deck, which are perfect for sitting, relaxing, dining and entertaining. Whether you choose to build your own or use an existing structure, the addition of these stunning features can transform your outdoor space into a retreat you'll love spending time in year-round.
Create a Variety of Seating Options
Whether you're entertaining guests or relaxing on your own in the sun, the right seating can help you get the most out of your outdoor space. There are a number of ways to do this, from budget-friendly options to more expensive furnishings.
The key to successful design is understanding your needs and goals before you start shopping around. This includes knowing what sort of features you'd like to include, how much time you plan on spending there and your budget.
For example, if you're lucky enough to live in a place with a beautiful view of the local mountains or river, make sure your seating arrangements are oriented to take full advantage of that vista. This can be as simple as positioning your sofas in such a way that they're facing the best part of the scenery or using strategically placed pillows to maximize your viewing area.
It's also a good idea to choose furniture that can be easily moved from one area to the next or used for multiple purposes, says Weston. For instance, if you're planning on using your lounge area for more than just lounging, consider a sofa or two with built-in tables that can be pulled out when you need them and folded away again at night.
It's also a good idea to look at your home's layout as a whole and see what areas of the backyard you can expand into, suggests Weston. This can help you to achieve the outdoor living space of your dreams and maximize your property's potential for outdoor fun.
Create a Private Space
A good outdoor living space should be able to accommodate all of your guests and entertainers without feeling crowded. The right furniture arrangement can help make this a reality. The best way to do this is to consider how your guests will use the space and what features they'll be interested in using. For example, do they prefer to dine in a seating area that is easily accessible to their neighbors or would they be happier seated at a table where they can feel more private?
A good outdoor living space is more than just a place to enjoy the weather, it should be an extension of your home's interior design. For example, you could incorporate a built-in media system to play music or movies in your new backyard paradise. Or, you could add a garden or vegetable patch for added green space and oomph. The best part about a modern garden or edible landscaping scheme is that it's low maintenance, affordable, and easy on the environment. With some creative outdoor living space planning and a little imagination, your new backyard oasis is sure to be the talk of the neighborhood! The most important thing to remember is that your backyard should be a place where your family and friends can relax, dine, and unwind.
Accessorize
Adding accents and accessories is an excellent way to personalize your outdoor space and make it feel like a part of the rest of your home. Accessorizing your space with colorful pillows, cozy throws and seasonal patterns can turn it into an inviting, relaxing retreat that your family and guests will enjoy.
Many homeowners have a lot of fun experimenting with colors and patterns when it comes to their outdoor spaces. This is because the backyard has more visual space than other rooms in the house to add a bold pop of color or play with texture and pattern without worrying about being overly busy or visually overwhelming.
Pillows and throws are a great place to experiment with different textures and patterns. The best part about them is that they can be easily swapped for seasons and holidays, making it easy to bring a fresh new look to your space.
Another great accessory is a mirror. This can help accentuate the features of your outdoor living space and reflect light throughout the evening. For a more formal look, consider a mirror that hangs from a wall above your outdoor seating area or dining room table.
To add a little privacy to your outdoor space, think about incorporating plants and shrubs that are softly textured or have small statures. In addition to screening plants, containers planted with trailing vines and blooms or a decorative trellis can also work well as a screening element in the landscape.
The key is to choose an item that works with the architecture of your home and complements other furniture and decor in your space. For example, this comfortable outdoor living room by Marie Flanigan Interiors includes a wood-clad ceiling that pairs well with the natural materials and calming colors of this space.
Aside from a comfortable couch and chairs, the outdoor space here is beautifully decorated with framed art and garden stools and tables. Adding simple accent pieces is an inexpensive way to update your space and transform it into something special.
<! -- #comments -->