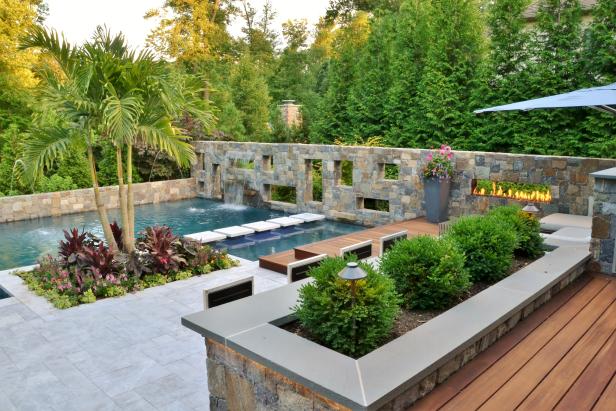 A garden oasis is a great way to create a zen-like retreat in your backyard. Whether you have a large or small yard, a few simple features can make your oasis a place where you'll find tranquility.
Water features, plants, shelter and lighting are the keys to designing your dream oasis. Creating a retreat in your own backyard can be a stress-relieving activity that will also help you get the most out of your garden.
Water Feature
Water features are a great way to add a touch of whimsy and charm to your garden. They can be anything from a small fountain with a cute fish figurine to a more sophisticated, modern water wall or waterfall. They will enhance your landscape design and create a calming, relaxing atmosphere that you can enjoy all year long!
A pond or water feature will instantly turn your backyard into an oasis. It will help you relax and unwind from the stress of your everyday life, and it will make your outdoor space feel like a tranquil escape from the busy city.
In addition to being aesthetically pleasing, a backyard water feature can increase your property value and attract wildlife. It will also aerate and filter your water, which will reduce the risk of algae and other unwanted contaminants.
One of the most attractive types of water features are ponds and waterfalls, which have become increasingly popular as a way to transform your landscape into a backyard retreat. These are low maintenance and energy efficient, attracting a variety of birds and butterflies.
For those who prefer something a little more sophisticated, consider a fountain with an organic finish such as this stone model. It blends in easily with the rest of the natural landscape and is easy to install near a seating area.
Another type of outdoor water feature is a gurgler, which is similar to a fountain but has less power. Its slow, trickling stream is peaceful and calming, and it will add an interesting accent to your garden.
Whether you are building your own backyard retreat or are looking for some inspiration for the home you plan to purchase, a water feature will make a lasting impression on your guests and increase your property's curb appeal. The experts at Living Color Garden Center are happy to assist you with your water feature needs and can offer the perfect solution for your backyard space.
Plants
Backyards are an excellent place to create a retreat or sanctuary. They are also an ideal area for entertaining, especially if they include a pool or other water features.
One of the most important aspects of a backyard oasis is the plants that are used to design it. There are many different types of plants to choose from that will help you achieve the look and feel that you desire.
Plants are an easy and inexpensive way to enhance the appearance of your backyard retreat. The key is to mix and match different types of plants together, so that the space feels natural.
For example, a simple garden with brightly colored flowers may be enhanced by pairing it with a grassy lawn. You can use clumping or spreading ornamental grasses to add texture and contrast.
Another great option for privacy is planting large shrubs or hedges. These will form a natural wall that separates your property from the rest of the neighborhood, while offering beautiful color and fragrance.
In addition, climbing vines that grow up over doorways or over trellises can provide an extra layer of privacy. Clematis, ivy, honeysuckle, trumpet vines, and morning glories are just a few of the varieties that can provide added privacy to your backyard oasis.
A gazebo can also be used to define zones within your backyard paradise. Whether it's attached to your deck or set near your pool, a gazebo can be the perfect spot for dining, cooking, and relaxing in the sun.
Shelter
Whether you're planning to enjoy a backyard retreat by yourself or with friends and family, it's important to plan the space well. This includes choosing furniture that is both comfortable and durable, as well as plants that are low-maintenance but still beautiful.
If you're looking for a peaceful spot to relax and read or play a game, choose a seating area with a cover to protect you from the sun. An awning, pergola, or arbour can do the trick. You can also install a DIY fire pit to create a welcoming ambiance for your backyard oasis.
Plants are another key element of a backyard retreat, as they help to make the space feel cozy and intimate. Try a few different types of flowers and leaves to add dimension and texture.
A water feature can also enhance the tranquility of your backyard retreat. It can be as simple as a fountain or as elaborate as a pond. It can blend with the natural landscape, stand out as a focal point, or provide you with a soothing, relaxing soundscape.
It's a great idea to sketch your vision of your dream backyard oasis before you actually begin designing. This will give you a clear focus and get the creative juices flowing.
When you're creating a garden oasis, it's important to choose a color scheme that is neutral and soothing. This will provide a backdrop that allows the rest of the space to shine.
Adding natural stone look tiles to your patio is an excellent way to achieve this effect. They're easy to clean and maintain, and they're available in a variety of different colors.
Outdoor bars are an awesome way to have fun with your backyard oasis! Not only are they a great place to unwind after a long day, but they can also be used to entertain guests.
Lighting
Lighting is a key element of creating a backyard retreat that is welcoming, relaxing, and safe. It also helps you enjoy the beauty of your yard at night and engages all your senses.
When designing a backyard oasis, it's important to choose the right types of lights that suit your garden's needs. A professional can advise you on the type of fixtures that will work best for your space, as well as the locations where they should be installed.
Consider using a combination of ambient and task lighting to illuminate your outdoor space, and accent your landscaping with uplights and downlights that highlight the areas of your yard that you'd like to showcase. There are a wide variety of options to choose from, so make sure you're choosing the perfect ones for your space.
Another way to add color and drama to your garden is to use a mix of outdoor wall light fixtures and flush-mount or pendant ceiling lights. These can be positioned along a path or tucked into perennial beds to spotlight your favorite plants and flowers.
Keeping in mind that your backyard oasis will be used at different times of the day, you'll want to select the right kind of lighting for each area. For example, a simple spotlight-style fixture is ideal for illuminating a narrow area over a patio table.
For larger areas that are often used during the day, you'll want to think about incorporating more decorative lighting that highlights your garden and landscape features. This can include uplights that illuminate trees or bushes, or downlights that graze a stone retaining wall.
A beautiful backyard retreat can be the perfect place to relax and unwind after a long day. Whether you're enjoying a nice evening barbecue or planning a pool party, the right lighting will make it a magical space for any occasion.
Sound
The sound of a backyard retreat can make or break the overall experience. Whether you are looking for a soothing, relaxing atmosphere or one that helps you disappear into a new world, the sound of your retreat can set the mood for the rest of your day.
The air around us is made up of trillions of tiny molecules that dance, bump into, and bounce off each other. When something moves nearby, these molecules get a little agitated and begin to vibrate. The energy from this movement causes them to bump into more nearby air molecules and creates a chain reaction of movements that are called sound waves. These sounds travel through space and are reflected off the walls, pillars, and rocks around them.
To create the tranquility of a backyard retreat, choose furniture, plants, and decorations that are comfortable for you. This is a great opportunity to express yourself and your unique style. It can also be an excellent way to test out ideas and see what you like.
If you have a small backyard, consider elevating your furniture to create more room. Add steps to your patio, a deck, or even a small series of raised platforms for a feeling of increased space in your yard.
A backyard retreat can be your own personal oasis, or a place to enjoy the company of family and friends. However, it is important to keep in mind that the design of a retreat is different for every person and it should reflect what you want and need.
<! -- #comments -->