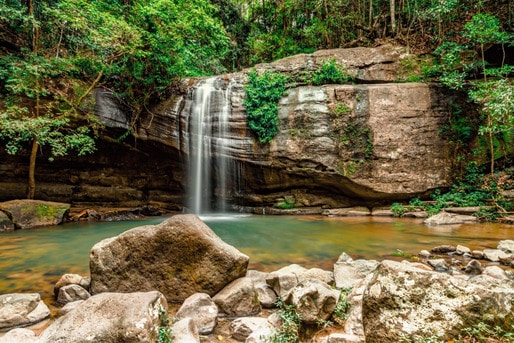 If you find yourself in the breathtaking Sunshine Coast of Australia, make sure to set aside some time to visit the charming suburb of Buderim. Nestled on a hill, this idyllic destination offers a delightful blend of history, natural beauty, and a vibrant community. With its lush landscapes, friendly locals, and an array of activities to suit all tastes, Buderim is an excellent choice for a getaway that will leave you rejuvenated and inspired.
A Glimpse into Buderim's Past
Before we delve into the present-day wonders of Buderim, let's take a step back in time. Originally inhabited by the Gubbi Gubbi people, Buderim was once a thriving rainforest with a rich Indigenous history. In the late 19th century, European settlers arrived and established a timber and farming community, which has left its mark on the area's heritage.
To get a sense of Buderim's history, pay a visit to the Buderim Pioneer Cottage. This quaint museum provides a fascinating glimpse into the region's early days, showcasing artifacts and stories that will transport you back in time. As you stroll along the streets lined with historical homes, it's evident that Buderim has retained its charm and character from yesteryears.
Nature's Paradise
Buderim is often referred to as the "beautiful mountain," and for a good reason. The suburb's lush greenery and breathtaking views create an inviting atmosphere for nature enthusiasts and adventure seekers alike.
For a leisurely hike, head to Buderim Forest Park. The serenity of this rainforest will envelop you as you follow well-marked trails, meandering streams, and observe native wildlife. Don't forget your camera, as you'll want to capture the cascading waterfalls that punctuate the landscape.
If you're up for a more challenging trek, tackle the Buderim Tramway Trail. This historic route once served as a tramway to transport logs, but now it's a picturesque walking path through dense rainforest and past old tramway bridges. The journey culminates in stunning vistas of the coast, making every step worth it.
Artistic Expression and Local Culture
The Sunshine Coast is known for its vibrant arts scene, and Buderim is no exception. As you explore the suburb, you'll encounter numerous art galleries and boutiques showcasing the works of talented local artists. The Buderim Craft Cottage is a must-visit for art lovers, featuring an extensive collection of unique handmade crafts and artworks.
If you happen to visit during the Buderim Street Party, consider yourself lucky. This annual event brings the community together to celebrate local talents, live music, food stalls, and an overall sense of camaraderie. Engaging with the locals at events like this provides an authentic experience that you won't soon forget.
Culinary Delights
As you venture through Buderim's picturesque streets, the aroma of freshly brewed coffee and tantalizing food will tempt your taste buds. The suburb boasts an impressive array of eateries and cafes, catering to every palate and preference.
Start your day with a hearty breakfast at one of the charming cafes lining the main street. Indulge in a classic avocado toast or try a locally sourced eggs benedict. For lunch or dinner, you can't go wrong with the fresh seafood options available at various restaurants. The Sunshine Coast is renowned for its seafood, and Buderim offers some of the best.
Beaches and Beyond
Though Buderim itself is inland, you're only a short drive away from some of Australia's most beautiful beaches. Hop in your car and within minutes, you'll find yourself on pristine shores where you can bask in the sun or ride the waves. Mooloolaba Beach, Maroochydore Beach, and Alexandra Headland are popular choices nearby, and they offer an excellent opportunity for a day of sun, sand, and surf.
If you're in the mood for a unique experience, take a short drive to the nearby Bellingham Maze. This delightful attraction offers hedge mazes, mini-golf, and puzzles that will entertain visitors of all ages. It's a fantastic place for families or those young at heart.
Community Spirit and Warm Hospitality
One of the standout features of Buderim is the genuine friendliness of its residents. The strong sense of community and welcoming attitude of locals make visitors feel right at home. Whether you strike up a conversation at a local market or simply exchange smiles as you walk the streets, you'll undoubtedly be touched by the warmth and camaraderie that define Buderim's essence.
As you delve further into the heart of Buderim, you'll find that the suburb's essence goes beyond its tangible attractions. It's the intangible aspects that truly make Buderim a unique and unforgettable destination.
Local Markets and Festivals
For a taste of local flavors and a chance to meet artisans, head to one of Buderim's bustling markets. The Buderim Sunday Markets, held at the beautiful Wirreanda Park, showcase an array of stalls selling fresh produce, handmade crafts, and unique gifts. It's an excellent opportunity to support local businesses and engage with the creative community.
Buderim is also known for its exciting festivals that celebrate various aspects of its culture and history. The Buderim Ginger Festival, for instance, pays homage to the region's heritage of ginger farming. During this vibrant event, you can sample ginger-infused delicacies, watch cooking demonstrations, and enjoy live entertainment.
Breathtaking Lookouts
To witness some of the most stunning vistas on the Sunshine Coast, venture to the various lookout points around Buderim. One such spot is the Buderim Falls Park, where you'll discover the iconic Serenity Falls. A short walk through the rainforest leads to this enchanting cascade, providing a peaceful and refreshing escape.
Another must-visit lookout is the Lindsay Road Lookout. From this elevated vantage point, you can soak in panoramic views of the Sunshine Coast's coastline, stretching as far as the eye can see. It's an ideal spot to watch the sunset and reflect on the beauty of nature.
Hidden Cafés and Secret Gardens
Buderim is home to several hidden gems that are worth uncovering. Step away from the main streets, and you'll discover quaint cafés tucked away in lush gardens or along winding pathways. These hidden cafés exude a sense of serenity, making them perfect havens to savor a peaceful moment with a cup of locally roasted coffee or indulge in a slice of homemade cake.
For those with a green thumb or a love for botanical wonders, a visit to the Buderim Forest Park's Secret Garden is a must. This well-kept local secret is a haven of tranquility, boasting a diverse collection of plants, flowers, and sculptures. As you stroll through the garden's meandering paths, you'll feel a sense of calm and connection with nature.
Community Sustainability and Conservation
Buderim is a suburb that cares deeply about its environment and community. You'll find various initiatives promoting sustainability, recycling, and eco-conscious living. Join in on community clean-up days or participate in local conservation efforts to make a positive impact during your visit.
Historical Landmarks
To dive deeper into Buderim's history, explore some of its historical landmarks. The Buderim War Memorial, located on the main street, stands as a reminder of the sacrifices made by the local community during times of conflict. Take a moment to pay your respects and reflect on the resilience of the people who shaped the suburb into what it is today.
Friendly Wildlife Encounters
The Sunshine Coast is known for its rich biodiversity, and Buderim is no exception. Keep an eye out for the vibrant birdlife that inhabits the area. Lorikeets, rosellas, and kookaburras often grace the skies, adding a touch of color and melody to your day.
If you're lucky, you might even spot some friendly kangaroos or wallabies hopping around in nearby nature reserves. Just remember to maintain a respectful distance and observe these beautiful creatures in their natural habitat.
Making Memories to Last a Lifetime
Whether you're a solo traveler seeking solace in nature or a family looking for a memorable getaway, Buderim promises to leave a lasting impression. From its picturesque landscapes and historical charm to the warmth of its community, Buderim is a destination that invites you to slow down, immerse yourself in the moment, and embrace the simple joys of life.
As you bid farewell to this tranquil haven, take with you the memories of friendly encounters, breathtaking vistas, and a sense of connectedness to nature and community. Buderim is more than just a destination; it's an experience that will stay with you long after you depart.
So, when you find yourself in the Sunshine Coast of Australia, don't miss the opportunity to explore the hidden gem that is Buderim. Immerse yourself in its natural beauty, embrace the local culture, and let the warmth of its community envelop you. This charming suburb is a testament to the beauty that lies off the beaten path, waiting to be discovered by adventurous souls like yourself.
As you continue your journey through Buderim, you'll realize that the charm of this suburb extends beyond its borders. Its strategic location in the Sunshine Coast allows for easy access to a plethora of nearby attractions and activities. Here are some additional excursions and adventures to consider during your stay:
Discover the Hinterland
Venture a short distance from Buderim, and you'll find yourself amidst the stunning Sunshine Coast hinterland. The rolling green hills, quaint villages, and magnificent vistas make this region a must-visit for nature lovers and those seeking a tranquil escape.
Montville, a charming village nestled in the hinterland, is a favorite among visitors. Stroll along the tree-lined streets, browse through boutique shops, and sample local delicacies at the various cafes and restaurants. Art enthusiasts will appreciate the numerous art galleries showcasing the work of talented local artists.
A visit to Maleny is also highly recommended. Known for its dairy farms, you can sample delectable cheeses and yogurts from the region's creameries. The Maleny Botanic Gardens and Bird World offer a chance to get up close and personal with colorful birds in a stunning garden setting.
Beach-Hopping Adventure
While Buderim is not directly on the coast, it serves as an excellent base for a beach-hopping adventure along the Sunshine Coast. With a variety of beaches to choose from, you can tailor your beach experience to suit your preferences.
Head to Noosa Main Beach for a lively atmosphere, great surf, and a vibrant cafe scene. Noosa National Park is nearby, offering picturesque coastal walks and the possibility of spotting koalas in their natural habitat.
For a more laid-back beach experience, visit Coolum Beach. Its family-friendly atmosphere and rock pools provide a perfect setting for a relaxing day by the ocean.
Sunshine Coast Food Trail
Indulge in the region's delectable culinary offerings by embarking on the Sunshine Coast Food Trail. This gastronomic adventure takes you through a diverse array of local food producers, wineries, breweries, and restaurants.
Sample artisanal cheeses, taste award-winning wines, and enjoy farm-to-table dining experiences. The trail allows you to connect with the region's passionate food and beverage artisans, who take pride in showcasing the best of the Sunshine Coast's culinary delights.
Water Activities
The Sunshine Coast's pristine waters beckon water sports enthusiasts to partake in various activities. From surfing to stand-up paddleboarding, kayaking to snorkeling, there's something for everyone.
Mooloolaba and Caloundra offer safe and family-friendly swimming beaches, while Point Cartwright is popular among surfers for its consistent waves. If you're feeling adventurous, consider taking a surfing lesson from one of the local surf schools.
For a unique experience, embark on a whale-watching tour during the annual humpback whale migration season (typically from June to October). Witnessing these majestic creatures breach and play in the open waters is an awe-inspiring sight that will leave you in awe of nature's wonders.
Sunset Cruises and River Adventures
As the day draws to a close, treat yourself to a relaxing sunset cruise along the Maroochy River. This peaceful journey offers panoramic views of the surrounding landscapes, and you can enjoy the gentle breeze as the sun sets over the horizon.
For a more interactive river adventure, rent a kayak or paddleboard and explore the waterways at your own pace. As you glide along the river, you'll have the opportunity to spot various bird species and perhaps even encounter a friendly dolphin or two.
A Place to Call Home
What sets Buderim apart from other destinations is its uncanny ability to make you feel at home, even if you're just visiting. The sense of belonging and the genuine hospitality of its residents create a welcoming atmosphere that lingers in your heart long after you leave.
As you bid farewell to Buderim and the Sunshine Coast, you'll carry with you not just fond memories of scenic landscapes and exciting adventures but also the spirit of community, conservation, and a deep appreciation for the beauty that nature has to offer.
Buderim is a true gem, waiting to be discovered by travelers seeking a destination that goes beyond the surface attractions. Its combination of rich history, natural splendor, artsy vibes, and warm community spirit make it an ideal place to connect with both the land and its people. So, when you plan your next adventure, remember to include Buderim in your itinerary. You won't regret it.
<! -- #comments -->